Problems with your elbow? Loss of motion?
If you are experiencing pain in the inner side of your elbow that doesn't resolve quickly just by making sure you are sleeping with your elbows straight, especially if you are feeling weakness in your hands, you need to be seen right away! You could be facing irreversible loss of strength, muscle wasting, and easy fatigability.
Outer elbow pain is usually related to "tennis elbow," though most people seen with this do not actually participate in tennis. Instability of the elbow after trauma is unusual, and loss of motion can be a vexing problem that only rarely requires surgery.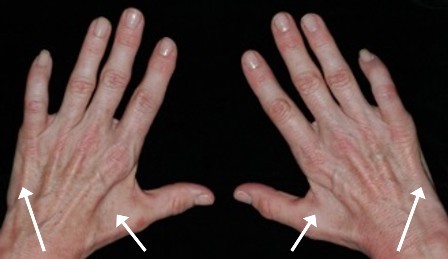 Severe muscle wasting due to pressure on the ulnar nerve.
Testimonial
I wanted to tell you that Dr. Ichtertz is one of the most effective, affordable, ethical doctors I have ever encountered in my 36 year nursing career!
I have seen the outcome of multiple surgeries he has performed on my husband including hand surgery, carpal tunnel surgery, elbow surgery, and shoulder surgery. Dr Ichtertz was able to perform a laparoscopic shoulder surgery on my husband that would've been a total shoulder replacement under most doctor's care! My husband recovered extremely quickly with almost no downtime after each surgery!
My grandfather had hand surgery with him with amazing outcome! My 82 year old mother had surgery for her carpal tunnel problem and went home and continued to clip coupons with that hand the very same day. My uncle has had his hand restored to full function by Dr. Ichtertz also!
I referred my brother to him who is a retired military veteran and now almost retired from Burlington Northern Santa Fe. He has restored my brother to full function after a carpal tunnel and elbow surgery-both the same day. My brother fixed his daughter's car and worked on his lawn the same day that he had surgery in the morning! He was back to work at BNSF two days later! Functioning fully!
My son also had a work up for his broken hand. Many doctors could've done surgery on that hand and gotten away with it. Dr Ichtertz was able to review the situation and confirm that my son did not need surgery. His hand recovered just fine.
The thing I find the most fascinating about Dr. Ichtertz is his moral ethical standard! In my 36 year nursing career I have observed many doctors doing procedures that were not best for the patient because they could and because they get paid. There are very few monitoring systems set up for doctors in America! The outcomes for many patients are very detrimental! Dr. Ichtertz only does what is needed and best for the patient. He is never driven by money. He makes it possible to pay out of pocket when insurance doesn't cover it! And he does his procedures for reasonable prices! He takes great pride in his profession and furthering the science for the benefit of mankind.! I have an amazing amount of respect and awe for Dr. Ichtertz for all the reasons mentioned above!
— Crystal T.